Once you or someone you are caring for is discharged from a hospital, it is crucial that the next destination, such as your home, is safely equipped. Ideally, you should have a care plan and equipment in place prior to being discharged from a hospital. An occupational therapist can assist you with this.
OTs can help you choose the right home equipment to stay safe. They can recommend motion-sensor lighting recommendations and do furniture height evaluations, among many other things. An OT will help you choose the best equipment for assistance and safety after you're discharged from the hospital.
With so many things to consider after being discharged from the hospital, safety should be at the top of your list. An occupational therapist's job is to get their patients back to a state in which they can safely move about their home and perform necessary daily tasks. 
Because of their objectives, they are deftly aware that ordinary parts of the home suddenly become obstacles when their patients are discharged from the hospital. This, in turn, makes them aptly suited to recommend home equipment that will mitigate these obstacles. 
Occupational Therapists Will Provide a Home Assessment 
There are so many ways an occupational therapist can help patients after they are discharged from the hospital. One essential service they can provide is a home assessment. This evaluation helps patients move about with greater ease in their homes, once proper modifications are made. It is also meant to decrease the risk of falling, which could increase  for anyone over the age of 65.
Beyond safety equipment, there are plenty of assistive devices occupational therapists might recommend as well, such as medical alert devices, ramps, or grab bars. Assistive devices are generally designed to either make everyday tasks easier, prevent falling, or provide assistance in case of a fall.
The reason occupational therapists are such a great resource is that they seek to understand the very specific needs of their patients. There are plenty of general sources of safety recommendations out there, but only your occupational therapist will know exactly what you need for proper rehabilitation. 
They are in the best position to help you choose home equipment to stay safe at home after being discharged from the hospital.
OTs Can Provide Tailored Home Equipment Recommendations
The first thing an occupational therapist sets out to discover is what matters to their patients. It's not their job to diagnose patients. They're not looking for what's wrong with them. They're interested in what matters the most to them—what do they need to be able to do again. 
This puts them in the perfect position to consider what ought to change about a patient's home for optimal safety and comfort. 
An occupational therapist's job is always about customization. Every patient is unique, even if their conditions are similar. Two patients in similar conditions lead different kinds of lives, which means they each require a different kind of care and rehabilitation. 
Occupational therapy is a precisely personal intervention to promote the necessary abilities required to meet their patient's personalized goals for daily life. 
Beyond the initial structure for occupational therapy in which goals are set and customized plans are made, occupational therapists continue to evaluate their patient's progress to ensure goals are met and plans are carried out. 
On an as-need basis, occupational therapists will make amendments to plans in order to increase the possibility of meeting their patient's goals. Customization continues throughout the process in this way. Occupation therapists continue to tailor their methods to the individual progress evaluation outcomes for each patient. 
OT Assessments Provide Important Individual Information
Occupational therapy involves myriad tests, assessments, tools, and measures. For example, some occupational therapists specialize in driver rehabilitation. These kinds of occupational therapists administer screening and assessments that involve:
Physical abilities, such as reaction speed
Visual abilities, such as sharpness and visual acuity 
Mental abilities, such as decision making
Regardless of the particular goal for rehabilitation, occupational therapists are generally prepared to administer certain kinds of assessments. These assessments allow occupational therapists to develop plans for care, safety, and rehabilitation.
Based on their assessments, occupational therapists can make tailored recommendations to their patients about home equipment that would help them accomplish their goals. An occupational therapist knows the patient's goals in addition to having assessed their abilities. 
This makes an occupational therapist the ideal recommender for home-preparation after hospital discharge.
OTs Perform Home Safety Assessments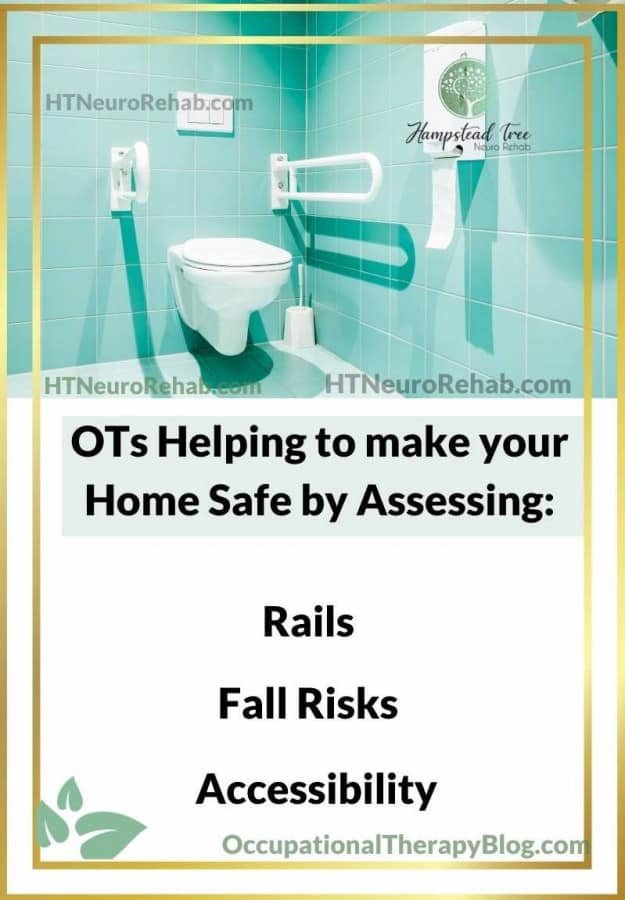 An important service that occupational therapists often perform, is a home safety assessments. These evaluations seek out opportunities for the installation of home-safety features. These kinds of modifications provide a two-fold benefit. At once, they keep those who need them safe; and they afford them the independence they might not otherwise be afforded. 
During the evaluation, the occupational therapist will seek to prevent falls. Fall prevention is extremely important for elderly patients. For senior citizens, falls are the most common source injury and the leading cause of death. That is why fall prevention is an essential part of home safety evaluations.
Occupational therapists also promote awareness of fall risks. They explain to their patients what the risk of a fall means as well as how to prevent falling. They can walk patients through the home and discuss the riskiest places. Further, they can offer exercises to improve balance, and ways to avoid risky situations. 
OTs Operate Around Personal Routines
For occupational therapists, identifying the areas of day-to-day life with which their patients find difficulty is key. There are numerous reasons why tasks that once seemed trivial can become tremendously tricky.
 Brain and spinal injuries, among others, can change everything about the way a person approaches everyday tasks. Knowing this, an occupational therapist seeks to understand the specific tasks troubling each of their patients, based on personal daily routines. 
An occupational therapist will consider your daily routine as they perform a home safety evaluation. They will consider your everyday tasks as they take a turn around every corner of your home. You will receive a customized look at the kind of equipment you will need to stay safe at home. This will all be based upon your personal everyday life. 
OTs Consider Your Personal Care
Your safety and your independence go hand in hand in many ways. Equipment that allows you to safely perform daily tasks grants you the independence to do them without help. Independence is essentially about taking care of yourself. This includes adequate personal care and dressing. 
A goal of occupational therapy is to return patients to a state of caring for themselves. This means being able to bathe, groom, and dress in a safe manner. 
One way in which occupational therapists get involved in such personal matters is by breaking down tasks into manageable step-by-step goals within daily routines. The other is by focusing on the bathroom and dressing room equipment in the home to allow for safer grooming and dressing.  
An occupational therapist is a perfect assistant for modifying your home to make your personal care routine safer. Once you have the proper equipment in place, you can safely return to the personal care routine. Your occupational therapist can continue to help you improve upon the manageability of that routine in addition to helping you choose the right equipment for it. 
OTs Consider Your Personal Goals for the Future
Advocating for their client's customized goals is a cornerstone for occupational therapy practitioners. An early part of the process for occupational therapy is a conversation about the client's goals for the future. 
This actually helps both the occupational therapist and their clients figure out where to begin. Sometimes you can't see where you should start until you know where you're trying to go. 
After being discharged from the hospital, figuring out where to start is particularly difficult. So, the best place to start in such cases is modifying the home so someone can get around safely.
An occupational therapist can recommend assistive devices to manage cognitive challenges and safety equipment to manage physical challenges. 
Before any other future goals can be obtained, an occupational therapist wants to make sure their patient's life at home is as manageable as possible. This involves equipment that will assist the patient as well as make their home a safer space.  
OTs Consider Rehabilitation as Their Core Responsibility
Rehabilitation is the core of occupational therapy. The ultimate goal is for patients to return to a state in which they are able to do the kinds of activities they wish to do. 
Rehabilitation comes in the form of programs, activities, or techniques designed to restore previous functionalities. The patient's functionality from before they required occupational therapy becomes the goal for that patient upon starting occupational therapy. 
Part of rehabilitation is returning the level of functionality a patient had in their home before they were discharged from the hospital. An occupational therapist will recommend safety equipment and assistive equipment for their patients to help them begin to return to state of former functionality.
OTs Recommend Modifications to the Entry-Way 
The entry area to a home should be well-lit. If it isn't, an occupational therapist is likely to make that recommendation before going any further into the home. And, at the same time, if there is even a single step up to the entry, there will likely need to be railing modifications if sufficient railing is not already present. 
An occupational therapist will begin assessing these kinds of risks the moment they begin walking toward the home. Before entering, they'll even assess the door handle. 
If there are obstacles involved in getting to the door and then through the door, an occupational therapist will recommend equipment to remedy each obstacle. Here are some examples:
OTs Recommend Motion-Sensor Lighting in Select Areas
Lighting plays more of a role in our daily life than any of us have time to think about. However, an occupational therapist gives a lot of thought to lighting in the home of a recently discharged patient. 
Motion-sensor lights are highly recommended in general by occupational therapists. An occupational therapist doing a home evaluation will recommend specific areas for motion-sensor lights. 
OTs Look for Uneven Pathways
An OT will look for any holes or uneven joints in all walkways of the home. They will recommend repairs as needed. This kind of modification might even involve widening pathways as much as possible. Or, it could be as simple of a recommendation as clearing pathways. 
Ultimately, an occupational therapist identifies obstacles in the most frequent pathways of the home and helps you come up with ways to mitigate them.
OTs Identify Fall Risks
There are really all kinds of fall risks that most people don't think about until after a fall. Occupational therapists are trained to identify these kinds of risks. 
Here is a list of the kind of risk an occupational therapist might identify, and then help you eliminate:
Rugs that need to be secured to the floor with double-sided tape
Single-sided handrails for staircases (both sides are recommended to prevent falls)
Shower floors that need non-slip strips added 
Shower walls that need grab bars added 
Toilets that need a safety frame
Bathroom floors that require non-slip bath mats
These are just a handful of the kinds of suggestions occupational therapists make during home safety evaluations. These in particular are safety-related and meant to prevent falls, which have a higher chance of being fatal for elderly persons. 
There are all kinds of other recommendations an occupational therapist might make depending upon their patient's needs. Other kinds of recommendations involve furniture modifications that prevent falls in addition to making general tasks easier.
OTs Suggest Furniture Modifications that Make Tasks Easier and Safer
Height is something that may need to be modified one piece of furniture at a time. Some pieces of furniture might need to be lowered for easier access. Others may need to be higher. An occupational therapist can make recommendations either way. 
Here are some pieces of furniture that may need to be lowered, for example:
Clotheslines
Counters
Peepholes (Door Viewer)
Closet rods
Shelves
Here's a list of items that may need to be higher:
Mailboxes
Couches
Chairs
Beds
Toilets
Part of a home assessment, which is a service that occupational therapists provide, is identifying exactly what needs to be modified in the home to promote safety and accessibility throughout. 
Another part is discussing how to execute these modifications in the most appropriate and effective manner. Every home will be different, and your personal desires will always be considered throughout the evaluation. 
OTs Provide Useful Alternative Solutions Based Upon Particular Needs
There are typically a number of ways in which modifications could be made to accomplish the same ends. For example, if you do not want to buy a higher couch, your occupational therapist might recommend a standing aid to be used for the couch. Or, they might suggest that it is raised with furniture raisers (or perhaps both). 
It's all about what works on an individual level—your favourite furniture and the parts of the home you use the most often.
For instance, the placement of a peephole should be based upon your height. Similarly, a telephone setup should be based upon your favourite place to sit. Enhanced lamp switch installations may be recommended, but those recommendations are tailored to personal lamp usage. Your laundry facilities and your bathroom might also require specialized modifications.
An occupational therapist would advise against laundry facilities in the basement, for example.
On one hand, an occupational therapist is driven to get you back to the kind of activities you participated in before they started working with you. On the other, they will help you identify changes you should make so that these activities are safe for you to participate in. Using this example, an occupational therapist wants you to be able to do laundry but will help you avoid the risk of injury while doing so.
OTs Can Recommend Assistive Devices
An occupational therapist can recommend assistive devices that aid you in more ways than keeping you safe. They can help you accomplish your goal of returning to your daily activities with less struggle. 
Below is a list of some examples they might recommend:
Adaptive utensils
Stair lifts
Medication organizers
Medical alert systems
Weighted blankets
A Safe Home Means You Can Relax and Get Back to Life Sooner
By making your home a safer space, you can become more focused on your goals. With too many obstacles in the way, it can be overwhelming to even think about goal-setting.
It is important to make your life as manageable as possible so that you can begin to work on returning to your usual activities. With the right equipment, your home can become a safe place for you to work toward feeling like yourself again.  
Content Disclaimer
The information contained above is provided for information purposes only. The contents of this Blog article are not intended to amount to advice, and you should not rely on any of the contents of this Blog article. Professional advice should be obtained before taking or refraining from taking any action as a result of the contents of this Blog article. OccupationaltherapyBlog disclaims all liability and responsibility arising from any reliance placed on any of the contents of this Blog article.