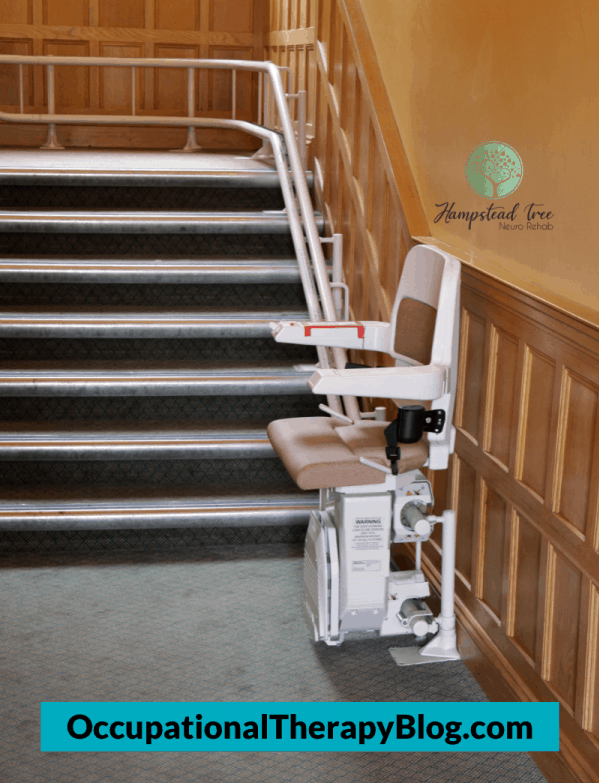 Stairlifts are commonly needed in homes in which a person's age limits them to no longer be able to climb the stairs safely and easily. There are also many other reasons one may need to ask themselves if their insurance covers a stairlift. Many disabilities and injuries also require you to purchase a stairlift.
There are a few insurances that will fully cover the cost of a stairlift. However, not every insurance policy will cover the cost fully, if at all, due to the way stairlifts are coded. Most insurances will require you to have a doctor's prescription and a legitimate reason that the chair is needed.
While every insurance will not fully cover the stairlift cost, there are many that will. There are also many programs to assist those that can't afford the cost associated with stairlifts. Read on to find out what insurances will cover your stairlift and how to afford a stairlift out of pocket when insurance falls through.
Which Insurances Will Cover Stairlifts?
Unfortunately, not every insurance out there will cover the total cost of your stairlift. Whether an insurance company will cover the lift or not all comes back to a simple code.
Some insurance companies have stairlifts coded as DME, which means durable medical equipment, while others classify it as a home modification. When it is written as a home modification, it most likely will not be covered in full or partially.
Let's look at a few standard health insurance options and see if they cover the cost of your new stairlift.
Medicare will cover 80% of the stairlift's total cost if it is coded as DME. In some cases, you may need to pay the total cost out of pocket, and Medicare will reimburse you. To receive the 80% coverage:

The doctor prescribing the stairlift must be enrolled on Medicare.
The supplier from whom you are ordering stairlifts must be enrolled in Medicare.
Some states may code the lift as a home modification; it is at each state's discretion. This instance will likely exclude your ability to receive 80% coverage.

Blue Cross & Blue Shield – This insurance company does not cover stairlifts. 

BC/BS classifies stairlifts, chair lifts, and ramps as non-medically needed equipment. They state they are for comfort and convenience only; therefore will not cover it. 
In some cases where a patient meets many specific exemptions, it could be partially covered. In most cases, they will not be covered, unfortunately.

VA – The VA could potentially cover the total cost of your stairlift if you were injured in the line of duty. 

They also have been known to cover Veterans in general and their spouses who can no longer safely make it up the stairs.
Even if you or your spouse were not injured in the line of duty
Auto Insurance & Workers Compensation – It is important to note that if the reason behind the need for a stairlift was due to an accident at work or a vehicular accident, insurance might cover it. Workers' compensation and your/the other drivers' auto insurance can cover stairlifts in full in many cases. 
What To Expect – Average Cost For Stairlifts?
Stairlifts can easily cost thousands of dollars, and that is typically for your small basic staircase. When you add a curve or large staircase in turn, the price can go up to the tens of thousands. Let's look at the different costs and how exactly they will change with added features. Almost every site/company that sells stairlifts will give you the option to request a free quote.
There are a few things to take into consideration:
The length of the staircase
If the staircase is straight or curved, are there any turns needed?
Where will the chair sit once it reaches the bottom or top?
Are there added features you want?
Do you need a heavier duty chair lift?
| | | | | |
| --- | --- | --- | --- | --- |
| Company | Straight Stairlift Cost | Curved Stairlift Cost | Option To Rent | Option To Finance |
| Stannah | $2,800 – $5,000 | $8,500 – $14,000 | $2,300 – 6 month | Site Doesn't Say |
| AmeriGlide | $1,700 | $8,200 | Yes | Yes |
| HandiCare | $2,500 | $6,200 | Site Doesn't Say | Some Dealers Will |
| Harmar | $2,200 – $5,600 | $14,000 | Site Doesn't Say | No |
There are many different options when looking for a company to purchase a stairlift. Some offer many added features and let you fully customize your lift or choose the basic model from chairs that manually need to be turned or ones that slowly turn to safely allow you to exit the lift with the press of a button. 
Affordable Options For Stairlifts
After the shock has worn off over the stairlifts' prices and finding out that your insurance may not pay for it, you can breathe again. There are many options available to those who still need a little assistance because:
Your insurance excludes stairlifts under their coverage
Your insurance will only cover a small part of the stairlift
Your insurance will not cover a stairlift due to you not meeting specific criteria
You can't afford to buy the stairlift outright
Programs – Free Stairlifts
As mentioned above, there are many different programs available in every state, and nationwide that will help cover the cost of a stairlift cost. Some offer waivers to those that meet the income levels in each state. There is typically funding available in each state every year. Calling DHHR in your area will help guide you in the right direction.
Even if you think you may not be accepted, you can still apply to any free stairlift programs out there. They all have different levels of criteria to meet, making some much easier to get. Almost all will have a maximum income limit, though.
Financial Assistant
While some companies that sell stairlifts will have finance options, you may need a little extra help. If you don't qualify for any free programs or insurance that will not cover the cost, this is one of your last options. A simple search online will bring up several sites to help you afford a stairlift. 
There are grants for stairlifts such as:
HISA – Home Improvements and Structural Alterations
SAH – Specially Adapted Housing
SHA – Special Home Adaption 
VD – HCBS – Veterans Directed Home and Community Based Services
Renting A Stairlift
This is a great option for those who need a stairlift due to a recent injury from which you will heal. Renting a unit can save you thousands. Some companies rent them for a meager cost for under a year. This would give you the perfect amount of time to use it after surgery or a broken leg.
If you have the extra income and don't qualify for insurance to cover it due to it being an injury you will recover from, renting is perfect. You will spend a couple of thousand dollars on renting a stairlift for around six months typically. This will cover the installation, maintenance, and uninstallation. For those that live in a multi-level home, it will make all the difference in:
Broken Leg/Foot/Ankle? Don't awkwardly use your crutches on the stairs
Knee & Hip Surgery – Stairs could cause pain and lengthen your recovery time
An injury where you can not bear any weight on the leg.
Stairlifts For The Home
No matter what you need the stairlift for, the good news is they can easily be affordable. Your insurance may not cover the total cost if at all, but rest assured there are many ways around the $5,000 – $14,000 high cost of buying a stairlift. Remember to apply for every grant or program you can to save the most money. 
Content Disclaimer
The information contained above is provided for information purposes only. The contents of this Blog article are not intended to amount to advice, and you should not rely on any of the contents of this Blog article. Professional advice should be obtained before taking or refraining from taking any action as a result of the contents of this Blog article. OccupationaltherapyBlog disclaims all liability and responsibility arising from any reliance placed on any of the contents of this Blog article. 
Article Sources
Blue Cross & Blue Shield – Stairlifts
Barrier-Free Store – VA Paying For A Stairlift